ANNOUNCEMENT : LICENSE FOR FOREIGN WORKER RECRUITMENT AGENCY – LICENSE C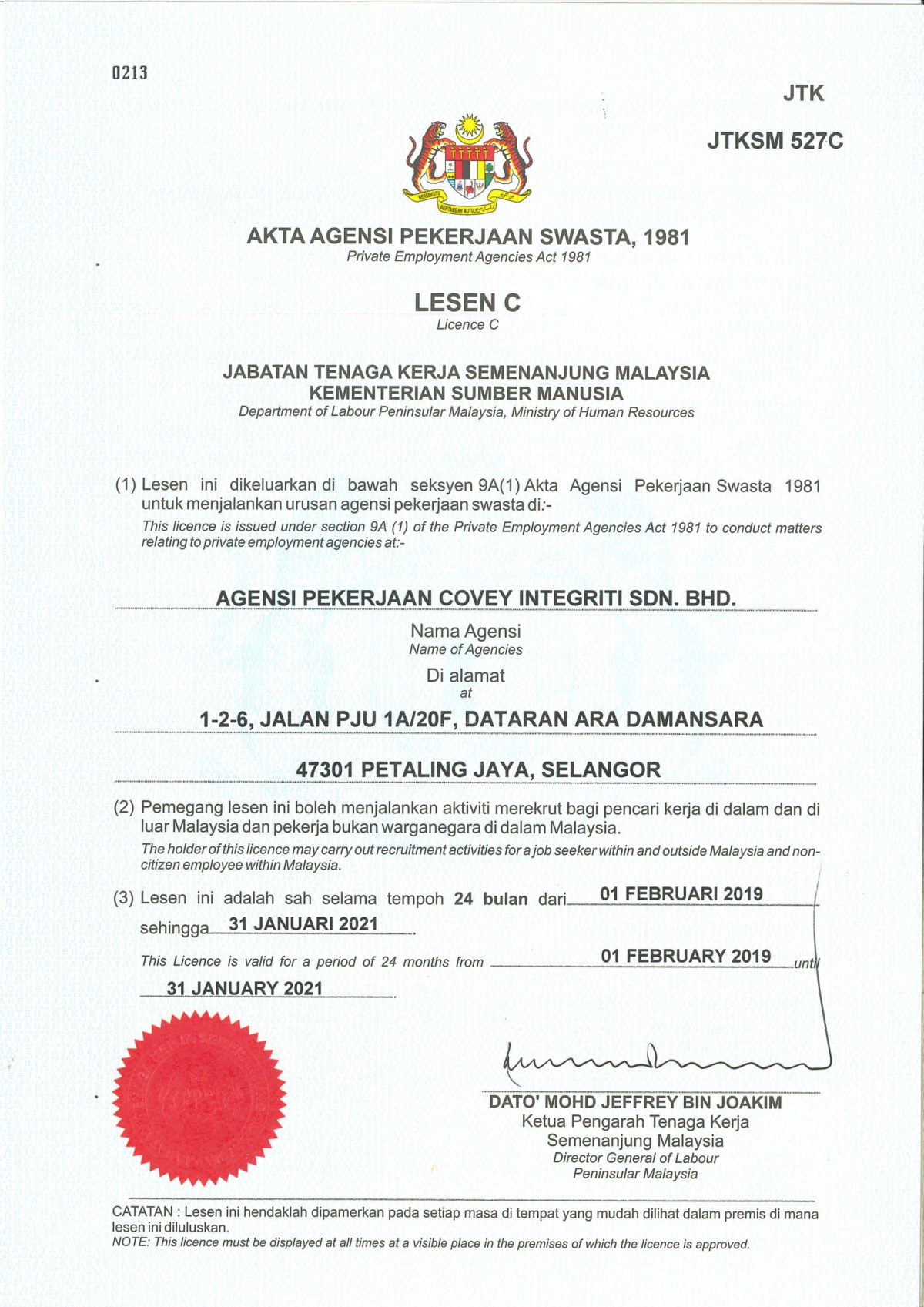 We are delighted to announce that effective from 15th February 2019, our company, Agensi Pekerjaan Covey Integriti Sdn Bhd has been authorised by the Jabatan Tenaga Kerja Semenanjung Malaysia , KSM under the License Category C.
Private employment agencies (informally, but commonly referred to here as "headhunters" or "recruitment agencies") are regulated by the Private Employment Agencies Act 1981 ("Act").
The Private Employment Agencies (Amendment) Act 2017 ("Amendments") came into force on 1 February 2018 and has introduced many new changes and provisions, with the aims of better regulating the activities of private employment agencies and protecting job seekers from being exploited by such agencies.
Here are some notable changes:
1) Under the Amendments, a private employment agency must now be a company incorporated under the Companies Act 2016, with a minimum paid up capital (depending on the category of license), and whereby 51% of the total shares in the company must be held by Malaysian citizens. Previously, private employment agencies can be run by an individual or in the form of a partnership.
2) Private employment agencies must now have the words "Agensi Pekerjaan" (Translation: "Employment Agency") preceding the name of their company.
3)Private employment agencies operating in Malaysia must have a license under the Act ("License") before they can carry out any recruiting activity in Malaysia, and the penalties for non-compliance has ben increased to a fine not exceeding RM200,000.00 or imprisonment for a term not exceeding 3 years or both.
There are others DO's and DON'Ts under this license. Kindly proceed to contact our Sales Representative at 03-78439989 for more.